The ideal pair of ladies summer footwear completes any outfit. You have a lot of options when it comes to shoes. The footwear you pick is influenced by your personal style, the event, and the weather. Thankfully, we ladies have an even wider range of options. We always spice up our clothes whenever a new season arrives. Often, in this wardrobe update, sometimes we forget to include our shoes. Well, not anymore. Since it's all about summer these days, we will only discuss shoes that are easy to wear and comfortable.
So, what kind of women's summer shoes 2022 would we even talk about? Well, we will talk about sneakers, flip-flops, loafers, pumps, wedges and etc. We will also discuss the best brands from which you can get your summer casual footwear. So, sit back, relax and let's start with this casual footwear journey.
Best Casual Summer Shoes for Women
Limelight Flats for a Comfortable Walk
When it comes to casual footwear, the first brand that comes to mind is Limelight. Their footwear collection is worth checking out. Their flat shoes for women are a sight of wonder. Flats are the best and most comfortable way to look stylish and hence feel comfortable too. Limelight is our number one choice for buying flats, and for good reason. This brand is versatile, but when it comes to flats, they have a limitless selection. Furthermore, the quality and elegance make them the finest choice for women's walking shoes. As these White Flats demonstrate, elegance is a major motif in these flats. These summer sandals for women are the finest choice for you because of the white color and the woven strap design on the top. Flats with an open-toe design are more comfortable than those with heels. This means you can wear them for a long period of time. Wear these wonderful flats with your everyday ensembles to look great while being comfy.
Khaadi Sliders for Women
Khaadi has a long history with footwear. Their shoes are just as good as their outfits. When it comes to slides, Khaadi has some fantastic picks. The high-quality and attractive style of their casual shoes for ladies is noticeable this summer. These slides are an excellent way to elevate your casual attire. If you are looking for some casual shoes to wear this summer, don't worry. Simply get a pair from Khaadi and make your life easy. This funky slide is made of polyester. Their modern interpretation of classic flat style has changed the way we look at ladies summer footwear. This shoe may provide the finishing touch to your everyday casual outfits. So go ahead, purchase a pair and start dressing up with Khaadi now.
Sapphire Casual Heels for Women
In the summer, casual heels are the greatest way to show off your feet. They increase your height by a few inches, and the design helps you look classy without being uncomfortable. Sapphire's casual shoe collection is fantastic. They transform ordinary footwear into something unique. Through these heels, you can see their commitment to their products. Consider these brightly colored heels. The shoe's heel design is just gorgeous. The rust hue and ruched strap, on the other hand, lend funk to your clothes. Overall, these heels for women are fantastic. They are jaw-droppers due to their modest yet interesting style. You can wear them either on a regular basis or on special occasions too. It's all up to you.
Sana Safinaz's Mules for Summer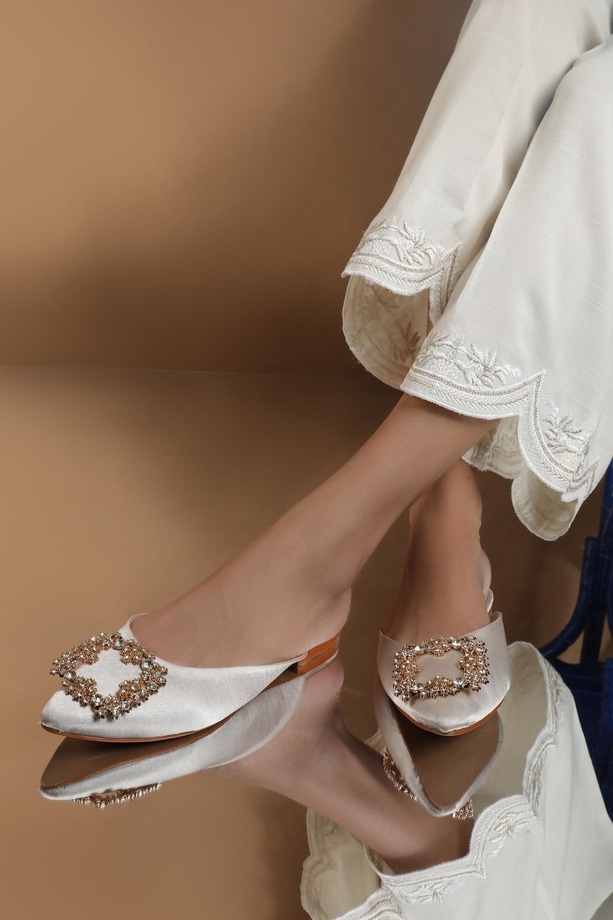 Sana Safinaz is no stranger when it comes to footwear collections. Even this year, they managed to sneak up into our list. Their short yet amazing collection of shoes shows attention to detail. These white mules studded with crystals are a great example of their footwear collection. Imagine spicing up your everyday outfits with flat shoes for women like these. Now, that's a story worth telling. Make your own story and pair up your own outfits. Let your imagination run wild with, Sana Safinaz's footwear collection. There are many other shoes just like this one in their new summer footwear collection. Visit their stores to buy these mules right now or explore more options online.
Conclusion
There are a number of brands that hook you up with the best summer shoes. However, the brands listed above are the most trusted brands in Pakistan. Their quality and comfort are a guarantee, regardless of what brand you pick. We know how much shoes mean to you, that's why we bring you the top four brands with an amazing summer footwear collection. Make sure to check out these amazing brands to buy your new womens summer shoes 2022. You can even explore on your own if our picks don't suit your need. Start a shoe shopping spree today!