Dupattas are the most versatile part of your outfits. A ladies dupatta can make an outfit extravagant or simple depending on what dupatta you wear. You can wear it like a scarf, wrap it around your arms or use it as a hijab. There are endless ways to style a dupatta, that is why we love them. Every dupatta tells its own story and it's time you told yours.
Today, we will discuss the best dupattas you can buy online. These dupattas will bring your dressing style to a whole new level. Down below you will find the best brands in Pakistan that sell dupattas online. All you have to do is pick your favorite and dress like a true diva.
Best Brands with Dupatta for Women
Limelight Dupatta Collection
Limelight is the best brand for a plain chiffon dupatta online.No matter what color your suit is, Limelight can match it with their dupattas. This collection contains different dupattas including chiffon, crushed, and jacquard fabrics. Most of these dupattas are plain and dyed so they can match any printed clothes you want. Select your favorite dupatta from over 40 different shades at Limelight. Make your outfits more elegant and add that pizzazz to your look. Dwell into the world of dupattas with Limelight and buy your favorite dupatta today!
Sapphire Dupatta Collection
Sapphire is a great brand for luxury and printed dupattas. In this collection, there is a dupatta for everyone. Most dupattas in this collection are printed and fancy. Matching these dupattas, however, is fairly simple. You can either match it with your suit or find a dupatta that compliments your suit. For printed dupattas, you can wear a simple outfit or match the print with your suits. The possibilities are endless because there is an endless number of dupattas to choose from. Sapphire is a trustworthy brand because all their dupattas are high-quality and stylish. Add this Jacquard Dupatta to your cart or pick out the dupatta that suits you best.
Khaadi Dupatta Collection
Khaadi has a wide range of dupattas. From formal to bright summery printed dupatta online, they have them all. Matching a dupatta is easier than ever before, thanks to Khaadi. Printed, plain and fancy dupattas are all available up for grab in this collection. Keep your outfit in mind when buying your favorite dupatta. You will look stunning once you match a dupatta with your favorite outfit. There are 9 different fabrics and 20 plus dupattas to choose from in this Khaadi collection. You can match the bright and colorful dupattas with your outfits to create the best summer outfit. You can even make an outfit for Eid with the formal dupattas. Hurry up and buy before it's too late.
Sana Safinaz Dupatta Collection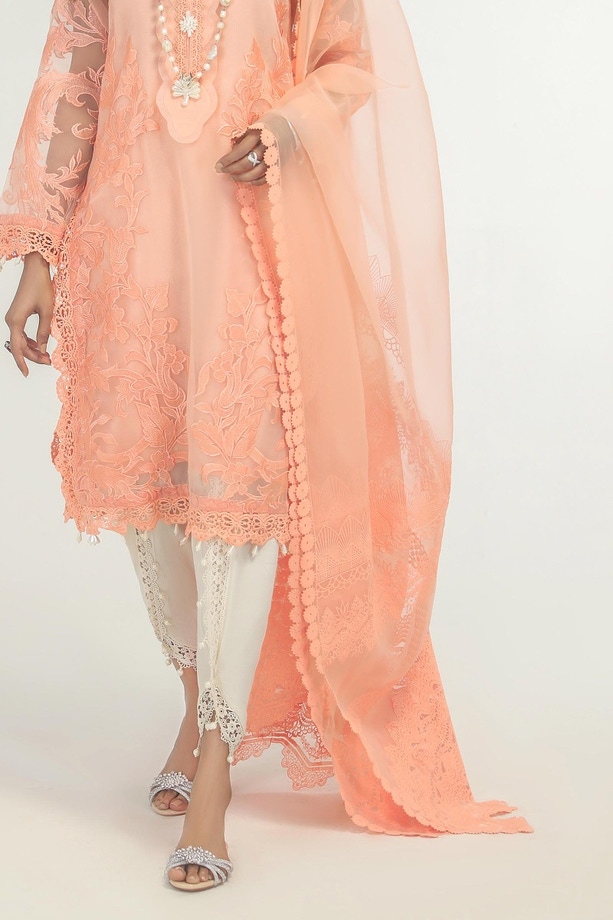 If you are looking for a formal printed organza dupatta then Sana Safinaz is the best option for you. We know how important formal outfits are for you that is why we added Sana Safinaz to this list. Their formal dupattas will easily match any formal outfit you have. This collection is all about luxury. Organza, net, silk, and satin are just a few fabrics that you can find within this collection. All the fabrics are premium quality perfect for any formal outfit. With Eid just around the corner, it is a good idea to check Sana Safinaz out. We promise you will find something to wear this Eid whether it is a pure chiffon dupatta or an organza dupatta. Start your Eid shopping today with Sana Safinaz's Dupatta Collection.
Gul Ahmed Dupattas
Gul Ahmed is the perfect place to find a casual floral dupatta to wear this Eid. Screen printed, yarn-dyed, lawn, cotton dupattas are all available on Gul Ahmed's online store. Just grab your shirts and suits to start matching them with these dupattas. Light and bright dupattas are the best picks for this summer. Look cool while keeping cooler in this summer heat. Gul Ahmed has the best fabric quality in the market and at affordable rates. So, hop on to their online store and start shopping for the best printed dupattas.
Conclusion
Without dupattas, an outfit can be dull. Add some spice to your outfits or tone them down. These versatile pieces of cloth are amazing to mix and match. Match them with your shirt, shoes, or trousers and make everyone fall for your beauty. The following brands mentioned above are all equally good in their category. Some specialize in plain styles like a Crushed Dupatta, some in formal and some in casual, and some in all. Don't worry about what brand you pick, worry about the design and style of the dupatta you pick. With dupattas is all about mixing and matching so make sure you pick the right dupattas for your outfits. Check out these new dupatta design 2022 and have fun shopping.